Advantages and Disadvantages of K-12
The K -12 Program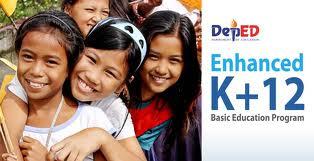 The K to 12 Program covers kindergarten and 12 years of basic education (six years of primary education, four years of junior high school, and two years of senior high school to provide sufficient time for mastery of concepts and skills, develop lifelong learners, and prepare graduates for tertiary education, middle-level skills development, employment, and entrepreneurship .
Advantage of k-12
The advantage of k-12 is to help all the children to be educated and as we can see education is the key to the long term problems of the country. If we fix basic education, we fix the long term problems of the country. And if we fix the country's problems, we will build a truly strong society. so that We need to add two years to our basic education. Those who can afford pay up to fourteen years of schooling before university. and their children are getting into the best universities and the best jobs after graduation. I want at least 12 years for our public school children to give them an even chance to succeeding.
And also we can give an hoped to Filipino students would be more literate,skilled, and competitive to be able to find jobs more easily and contribute to the country's pride as well as the country's economy.
Disadvantages of k-12
For my own opinion, one of disadvantages of having the K-12 is become more problem 'to our government, the school staffs, teachers, also in parents and especially the students. As we See, in hard economic times, it really having a hard time in parents to bring their children too school, so many student are out-of-school due to lack of financial, how can I lengthen the more years of study.
Moreover, if now that I have not yet laid at k-12 system big problem when it comes to equipment, school and budget for education.